Health Care and Beauty >> HAIR CARE >> Hair Care
Rice Water Shampoo - 250 ml with Keratin for Damage Repair
Damage Repair,Smoother-Stronger-Shiny & Bouncy Hair
₹ 349.00 ₹ 151.00 - 57%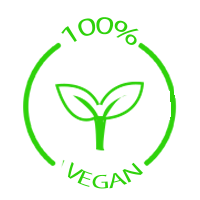 I am finest quality Damage Repair OrgaGlo Rice Water Shampoo, specially formulated with a goodness of Rice Water, Plant Keratin, Hibiscus, Aloe Vera, Banana and Gotu Kula.
No other shampoo leaves your hair this fresh!
My active ingredient, Rice water, is full of amazing properties. It contains tons of antioxidants and minerals, Vitamins B and E, and Protein that strengthen the strands, stimulates weak roots and enhances the shine of hair. Keratin and Protein rich content improves hair texture, enhances volume and increases elasticity of hair. I have also super foods for hair like Aloe Vera, Banana, and Hibiscus which are must for healthy scalp and hair. Feed your hair with my super healthy basket!
"The hair is the richest ornament of a human being!"
I am the finest quality of hair shampoo and completely free from harmful chemicals and toxins like SLS/SLES, silicones, parabens, dyes, phthalate, mineral oils, making me 100% safest to use.
What Do I Do ?
REPAIRS DAMAGED HAIR
Who likes the rough feeling of damaged hair? Pretty much no one. Rice water, Keratin and wheat protein, found in OrgaGlo Rice Water shampoo, makes dry, coarse hair feel softer and silkier because it's rich in Proteins, Vitamins and amino acids. It restores the hair shaft by being absorbed, resulting in fuller, thicker, and damage-free hair.
SMOOTHER AND STRONGER HAIR
Restores softness and adds a natural shine to the hair with Plant Keratin, Banana and Aloe Vera. Rice water contains Inositol, it penetrates damaged hair and repairs it from the inside out, as well as softening and smoothing it.
REDUCES SPLIT ENDS
Deeply hydrates hair with Proteins, Vitamins and Amino acids. Prevents split ends and repairs damaged hair with regular use. 100% Toxin free and chemical-free OrgaGlo Rice water protein shampoo strengthens & moisturises your hair and reduces split ends & hair fall.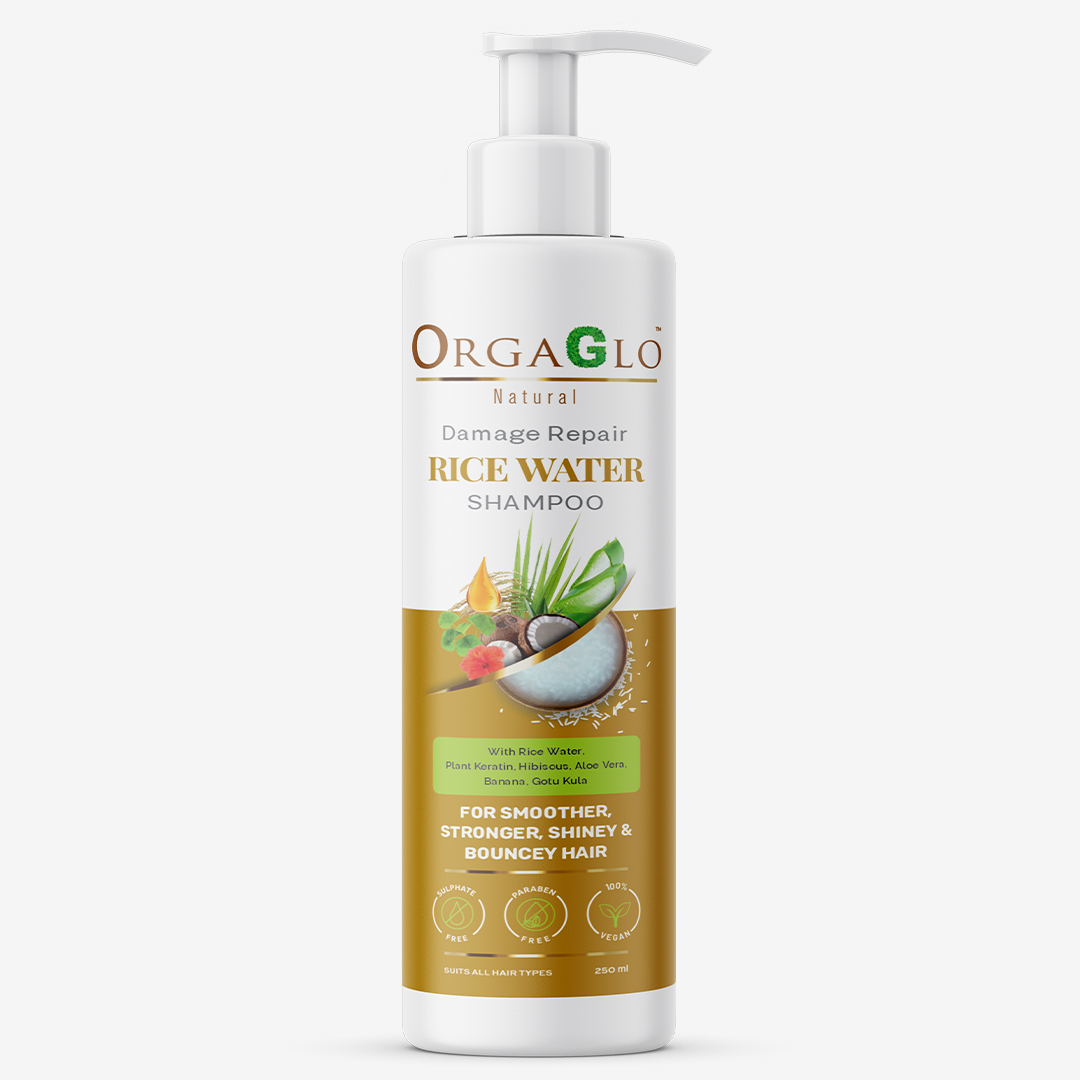 Apply OrgaGlo Rice Water Shampoo to wet hair and gently massage with fingertips. Work into the lather for a few minutes and let the natural ingredients work their magic. Apply twice and rinse well with cold water. Apply OrgaGlo Hair Oil on scalp & hair a few hours before shampooing. Complete off with OrgaGlo Rice water Conditioner and OrgaGlo hair serum for a healthy scalp and shiny hair. Do not expect as much foaming as in harsh sulphate-based shampoo because OrgaGlo Rice Water shampoo is sulphate free and free from all harsh chemicals and toxins.
Men and Women of age 15 years and above. Suits all Hair types
ORGAGLO RICE WATER SHAMPOO
NO SLS/SLES/SULPHATES
NO SILICON
NO PARABEN
NO MINERAL OILS
NO HARMFUL CHEMICALS
NO ANIMAL TESTING
NON TOXIC
100% VEGAN
NO ARTIFICIAL COLOR
OTHER SHAMPOO
CONTAINS SLS/SLES/SULPHATES
CONTAINS SILICON
CONTAINS PARABEN
CONTAINS MINERAL OILS
CONTAINS HARMFUL CHEMICALS
ANIMAL TESTING
CONTAINS TOXIC MATERIAL
CONTAINS ARTIFICIAL COLOR
Aqua containing extracts of Fermented Rice, Aloe Vera, Hibiscus, Banana, Gotu Kola, Cocamidopropyl Betaine and Glycerin and Caprylyl/Capryl Glucoside and Sodium Methyl Cocoyl Taurate, Sodium C14-16 Olefin Sulfonate and Sodium Cocoamphoacetate and Cocamide MEA, Coco Amido Propyl Betaine, Sodium Lauroyl Sarcosinate, Hydroxyethyl Urea, Hydrolyzed Keratin, Hydrolyzed Collagen, Hydrolyzed Wheat Protein, Cocamide MEA, Polyquaternium-75,Glycerine, Polyquaternium-7, IFRA certified Allergen Free Fragrance, Pisum Sativum Peptide, Cetrimonium Chloride, Polysorbate 20, Acrylates Copolymer, Sodium Benzoate, D-Panthenol, Methylchloroisothiazolinone and Methylisothiazolinone, EDTA Tetrasodium
Frequently Asked Questions
Disclaimer
Best Before- Within 24 months from the date of manufacture.
For external use only. Store in a cool and dry place.
The product contains natural ingredients and may change colour and fragrance, without losing effectiveness.
Even natural ingredients can cause and trigger allergies, a patch test is recommended before using.
In case of any rashes or allergy, please consult a specialist.
All images are shown for illustration purpose only, actual results may vary.
10 Review(s)

Rashmi Bava
The shampoo and conditioner are good so far... hoping to try the oil also for better results...

Aapti Dalal
This combo did great work on my hair. Rice water shampoo is SLS free and no harsh chemicals….conditioner is also very much effective.

Banhi
I suffered from dandruff, but after using this shampoo and conditioner I observe dandruff controlled and also the hair texture improved. Thanks Orgaglo.

Saraswati Singh
Amazing combo. I can notice in reduction of pigmentation with regular uses. Thanks Orgaglo.

Tapasya Sahu
Good Product.

Tejal Tank
The texture is nice and hair feels amazing after applying it.

Aadish Kohli
It makes hair smooth, thick and dense.

Kalyani Malpani
This rice water shampoo is really very good and very effective on my hair. This shampoo adds perfect nourishment to my hair and leaves the hair smooth and stronger. Must buy product. Great feeling for this …Love it.

Lakshmi Dutta
My scalp is oily and I always look for fermented rice water shampoo that not only removes the excess oil from the scalp but also does not snatch its natural oils. This damage repair shampoo has always suited me and I recommend this product.

Ratan Modi
Great Product…..I'm very happy using this and it's really effective for my hair…..