Health Care and Beauty >> FACE CARE >> Face Care
Ubtan Face Mask with goodness of Turmeric, Sandalwood and Saffron for Glowing Skin and Tan Removal - 100 gm
Skin Polishing ,Lightening,Anti-Aging ,Tan Removal
₹ 399.00 ₹ 140.00 - 65%


I am OrgaGlo Natural Glowing Ubtan Face Mask. I'm packed with the goodness of old traditional herbs and minerals -Turmeric, Sandalwood, Saffron, and Walnut with Almond oil, Olive oil & Aloe Vera.
Start the day with a Smile and end it with a Face mask!
Get glow like facial at home with OrgaGlo Natural Glowing Ubtan Face mask. I have age old skin care herbs Turmeric, Sandalwood oil and Saffron. These herbs are loaded with antioxidants and anti-inflammatory components, help to repair damaged cells, treat acne- pigmentation, remove excess oil, pulling out impurities & help to reduce signs of ageing. Olive oil, Almond Oil and Aloe Vera keep your skin firm, healthy, moisturized and give smooth texture.
Taking care of your skin is more important than covering it up!
I am the finest quality of face mask and is completely free from harmful toxins like silicones, parabens, dyes, phthalate, mineral oils, pathogen, PEG, SLS/SLES, making me 100% safest to use.
What Do I Do ?
MAKES SKIN GLOW & BRIGHTEN
With age old skin care herbs Turmeric, Sandalwood oil and Saffron, gives your skin a lustrous sheen & revitalize skin. Saffron is an excellent natural ingredient for reducing pigmentation, brown spots and other skin blemishes. Turmeric contains antioxidants and anti-inflammatory components, which provides glow and luster to the skin.
REMOVES TAN
The curcumin in Turmeric reduces the excess melanin production and brighten your skin tone and reduce dark spots and pigmentation. Walnut helps fight early signs of aging, removes dark circles and rejuvenate damaged skin.
24 HOURS HYDRATION
Give your skin the 24 hour hydration with goodness in traditional way with Ubtan Face Mask that's loaded with natural ingredients and moisturizing agents. Aloe Vera, Walnut, Almond oil help to retain moisture balance to make the skin soft and supple.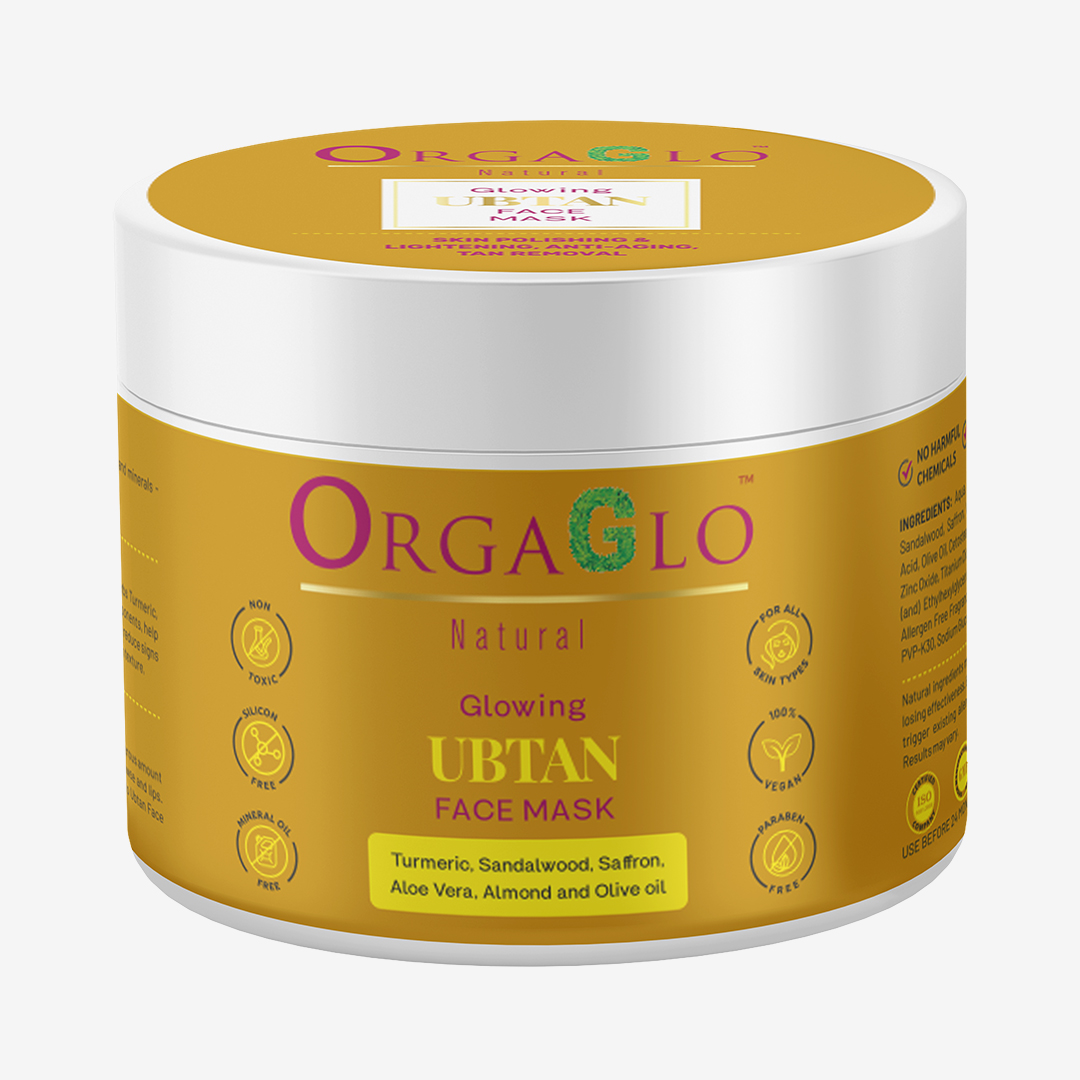 Wash your face with OrgaGlo Natural Glowing Ubtan Face Wash for better penetration & results. Apply a generous amount of OrgaGlo Natural Ubtan Face mask and spread it into an even layer. Avoid the area around the eyes, browse and lips. Leave the mask for 15 to 20 minutes. Rinse it off with water. Follow with an application of OrgaGlo Natural Ubtan Face Moisturizer. Use the mask twice a week for better result.
Men and Women of age 15 years and above. Suits all skin types
ORGAGLO UBTAN FACE MASK
NO SLS/SLES/SULFATES
NO PARABEN
NO SILICON
NO MINERAL OIL
NO HARMFUL CHEMICALS
NO TOXIC
NO ANIMAL TESTING
NO ARTIFICIAL COLOR
100% VEGAN
OTHER FACE MASK
CONTAINS SLS/SLES/SULFATES
CONTAINS PARABEN
CONTAINS SILICON
CONTAINS MINERAL OIL
CONTAINS HARMFUL CHEMICALS
CONTAINS TOXIC MATERIAL
ANIMAL TESTING
ARTIFICIAL COLOR
NOT VEGAN
Aqua containing Extracts of Aloe vera, Sandalwood, Saffron, Walnut with Kaolin, Glycerin, Stearic Acid, Olive Oil, Cetostearyl Alcohol, Almond Oil, Ceteareth-20, Zinc Oxide, Titanium Dioxide, EUXYL PE 9010(Phenoxyethanol (and) Ethylhexylglycerin), Sodium Benzoate, IFRA Certified Allergen Free Fragrance, Xanthan Gum, Potassium Sorbate, PVP-K30, Sodium Gluconate, Turmeric Oil & D Panthenol
Frequently Asked Questions
Disclaimer
Best Before- Within 24 months from the date of manufacture.
For external use only. Store in a cool and dry place.
The product contains natural ingredients and may change colour and fragrance, without losing effectiveness.
Even natural ingredients can cause and trigger allergies, a patch test is recommended before using.
In case of any rashes or allergy, please consult a specialist.
All images are shown for illustration purpose only, actual results may vary.
10 Review(s)
Binita Rao
Really it's work.... I loved this product... Thank you Orgaglo...
Deepa Chauhan
This Orgaglo ubtan face mask will give u natural glow! The best thing about it contains Saffron, Turmeric and many more …. Great buy..
Urmi T
I have dry skin and using this ubtan face mask twice a week. Results are extra ordinary, it clears the skin and looks like it glowing, and everyone should try this.
Pankaj Kumar
This mask quality is good, if you used any face mask you can give it a try.
Krishna Sheth
In love with the product and the smell of it is awesome. After using it i feel very fresh and clear.
Shubham Soni
The mask is too good. It's quite refreshing and make me feel energetic. The quality is fantastic. Using is for a long time and just loved it.
Tejal Pandhi
If you have blemishes or a dry and dull face, Ubtan face kit will save your face from a variety of problems. To tell you the truth, this product saved my life. It brought back my natural brightness and glow. Get yours immediately; it works right away with the first application. It's a natural product that helps me treat a variety of oily skin issues.
Mitali Chhaya
It's a terrific product with no complaints regarding the fragrance or natural ingredients, and after just one usage, you'll notice a difference. I adore it. The consistency and smell are excellent.
Amir Ali
This face mask has excellent benefits, and I am utterly enamoured with them. Your face is immediately purified, and you appear radiant. Thanks for this wonderful mask.
Veenita Kumari
I have used this product, I loved it.... It gives me glow and healthy skin.. I m in love with this product.